Hindustan Aeronautics HAL recruitment 2017 proposes to receive the application from applicants in Online Mode. Eligible candidates can submit their application to Hindustan Aeronautics HAL before 15/04/2017. All those aspiring to apply can check out various information like eligibility criteria, salary.
Qualification: Regular/ Full Time ITI + NAC / ITI + NCTVT after 10th Standard in the Trades of Machinist/ Turner/ Grinder/ Fitter/ Electrician/ Electronics Mechanic/ Instrumentation Mechanic.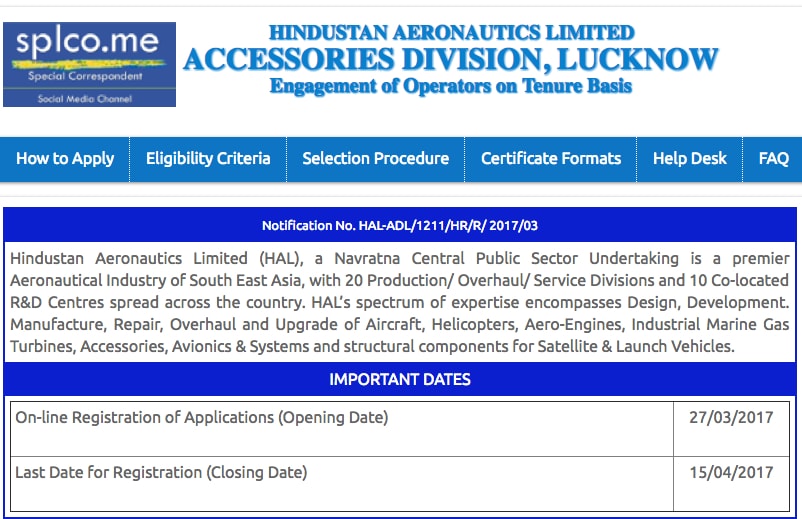 All qualifications should be from Institute recognized by the appropriate Statutory Authorities in the Country. For engagement, the candidate possessing higher technical qualifications than the required qualification indicated in the Advertisement/ Notification, need not apply. Candidates pursuing / enrolled for any other qualifications should mandatorily indicate the same in the application format. Candidature of such personnel who possesses higher qualification than the required qualification indicated in the Advertisement/ Notification will be rejected at any stage of the recruitment/ selection.
Age Limit: Upper age limit as on 01/02/2017 will be for UR- 28 years; SC/ST- 33 years; OBC(NCL)- 31 years.
Candidates belonging to OBC – Non-creamy layer category are required to submit OBC certificate not older than six months as on 01/02/2017, in the prescribed format at the time of document verification. The SC/ST category is also required to produce the community certificate in proof of their community at the time of document verification in the prescribed format.
Kindly login Hindustan Aeronautics HAL for further details
We Splco wish all the very best to all candidates who apply for this positions.
your reviews / critics are valuable to us . your news making skills can also be jointly done in our novel unique social media news making platform kindly get in touch with our team who vows to bring news told in its pure kind from splco Social Media channel for deserved people.