Supreme Court bench, comprising Justices Ranjan Gogoi and L Nageshwara Rao, during first week of jan 2017 ordered: "… we direct the Election Commission to bring on record the approximate time within which the entire system of VVPAT can be introduced, subject to grant of sanction and release of funds as and when required
"We also request the Solicitor General of India to assist the court in so far as sanction and release of funds is concerned. List the matter after eight weeks," the bench said.
The system, known as Voter Verified Paper Audit Trial (VVPT), intended to prevent rigging of elections, is yet to be introduced in all constituencies.
The issue has been pending before court for awhile with the EC insisting that much would depend on the availability of funds to back up EVMs with a paper trail. The EC has introduced the scheme on an experimental basis in several constituencies across the country.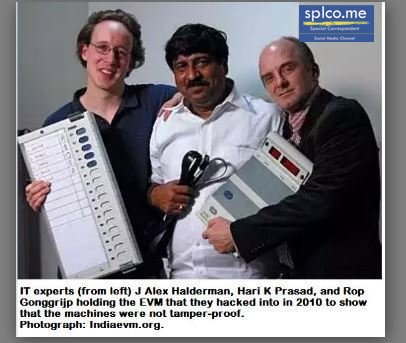 When the UP elections results out, Mayawathi and other opposition leaders raised the voice of rigging across the states that has once again stressed below events around the world to be highlighted.
The Microprocessors inside our EVMs been produced in Japan but inclusive japan many advanced developed countries like, US, Germany, Netherlands etc had refused to use EVMs.
Most particular Ireland after spending close to $75 million on its EVMs, found them to be so insecure they literally scrapped them.
The World, USA citizens in particular has not forget the problems with EVM security that have been widely known since the large-scale irregularities in Florida during the 2000 US elections.
One can easily change thousand of votes in EVM within few minutes . In 2006 Dutch TV aired a documentary showing how easy it was to hack the EVMs that were about to be used in their general election. The machines were subsequently withdrawn. When IITians Hariprasad and team exposed how the EVMs can be hacked they been arrested by then Congress Government in 2010
It is known fact that Ballot papers can't be hacked like EVMs for this reason Netherlands too went back to paper ballots. It is interesting to imbibe RSS ideology and Sitting BJP MP Subramaniyam Swamy who done series of press conferences and power point presentation shows against usage of EVMs when congress government ruled is remained sitting stoic
Supreme Court having taken the matter of preventing rigging and in case VVPT if introduced will this stop all allegations against Electronic voting machine is to be seen.
your reviews / critics are valuable to us . your news making skills can also be jointly done in our novel unique social media news making platform kindly get in touch with our team who vows to bring news told in its pure kind from splco Social Media channel for deserved people.