Delhi chief minister today alleged that the polls in Punjab had been rigged leading to his Aam Aadmi Party's defeat in the state.. Kejriwal's first media interaction after March 11, the day the Punjab Assembly poll results were declared. The AAP head however, did not refer to Goa where the party drew a blank and got only 6.6% of the polled votes
Yesterday, Kejriwal had written to the Delhi chief secretary directing him to approach the state election commission with the request to hold the upcoming municipal polls in Delhi using ballot papers. The top 6 points APP Chief made:
1) "There was no word of Congress coming to power… yet they swept the elections… really don't know how that happened…
2) They say EVMs are tamper proof. But our Supreme Court had said in the past that it is possible to tamper with EVMs. I'm not saying this, the Supreme Court said this."
3) "First and foremost, I strongly suspect that ours 20-25% vote share has been transferred to Akali Dal and BJP. As a result Congress has won. If they had made Akali and BJP win, it would have been very obvious because nobody would have thought of(their victory).
4) BJP only had one motive as was evident from Arun Jaitley's statement both before and after the polls. That at no cost should Aam Aadmi Party form the government."
5) EVMs (electronic voting machines) be compared with the VVPAT trail in around 32 places in Punjab where the paper audit system was in place.
6) "It is about the credibility of the Election Commission and the faith of people in the electoral system. We have strong prima facie evidence of foul play,"
Asked what explains AAP's stunning victory in 2015 polls, Kejriwal said that may have got to do with BJP's "over- confidence" that it would clinch a victory. "So they may not have indulged in tampering. The same would explain the victory of JD(U)-RJD in Bihar. Even then BJP was very sure of winning the state," he said.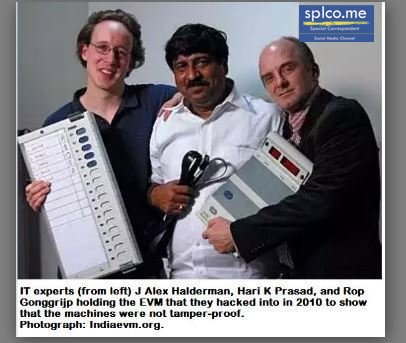 However foul cry about EVMs heard loud across global stating one can easily change thousand of votes in EVM within few minutes . In 2006 Dutch TV aired a documentary showing how easy it was to hack the EVMs that were about to be used in their general election. The machines were subsequently withdrawn. When IITians Hariprasad and team exposed how the EVMs can be hacked they been arrested by then Congress Government in 2010.
It is known fact that Ballot papers can't be hacked like EVMs for this reason Netherlands too went back to paper ballots. It is interesting to imbibe RSS ideology and Sitting BJP MP Subramaniyam Swamy who done series of press conferences and power point presentation shows against usage of EVMs when congress government ruled is remained sitting stoic.
Earlier Mayawati had said, "The results in UP and Uttarakhand are surprising and not palatable to anyone…it seems EVMs did not accept votes polled for any party other than BJP. It is a matter of common discussion here that even if button is pressed for any other party, vote will be polled in favour of BJP.".
your reviews / critics are valuable to us . your news making skills can also be jointly done in our novel unique social media news making platform kindly get in touch with our team who vows to bring news told in its pure kind from splco Social Media channel for deserved people.