According to data provided by the poll body , Rs 50.78 crore was recovered in the 2012 assembly polls in Uttarpradesh Utrakanth Punjab manipur and Goa but this time Rs.184.85 crore has been seized.
This shows Cash seizure in the just-concluded assembly elections in five states has seen a 263 per cent rise as compared to the 2012 polls, the Election Commission said.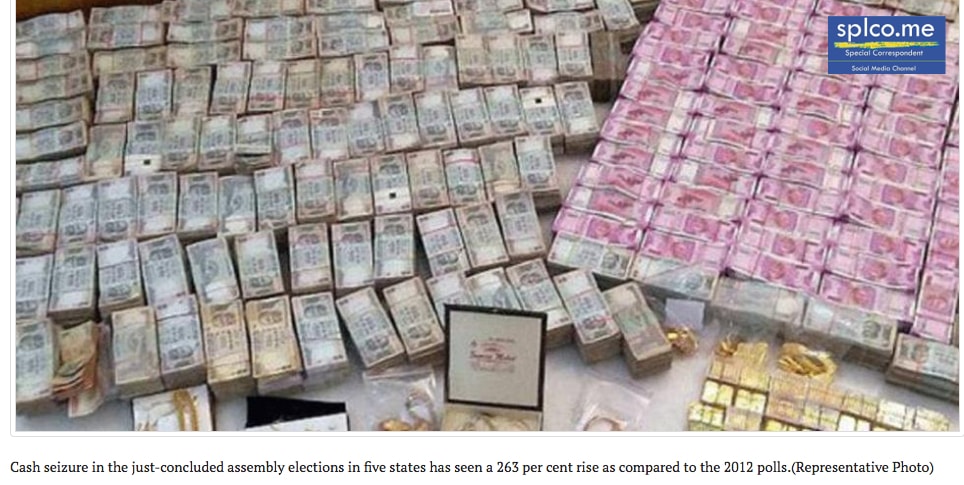 Nearly 6,264 kgs of drugs and narcotics worth Rs 31.78 crore were seized from Uttar Pradesh, Punjab, Uttarakhand, Manipur and Goa during the election period. During the 2012 polls in these states, only 53 kgs of drugs were seized. But its worth was Rs 54 crore.No reason was immediately available for this difference. The quantity of drugs and narcotics seized this time has also gone up, but its value has gone down reports Election Commission.
The quantity and worth of liquor was also much higher this time. While nearly 56,000 litres of liquor was seized in the 2012 polls worth Rs 2.82 crore, the amount recovered this time was 37.26 lakh litres worth Rs 83.21 crore.
Interestingly, the poll authorities have also recovered 175 Rado watches this time, besides Rs 52.30 crore worth of precious metals where as this products not seized in 2012.
Modi's Central government said the purpose of demonetisation is eradication of black money but even after demonetisation the cash seizure in elections gone up by 263% and this seizure question the purpose of demonetisation.
your reviews / critics are valuable to us . your news making skills can also be jointly done in our novel unique social media news making platform kindly get in touch with our team who vows to bring news told in its pure kind from splco Social Media channel for deserved people.